(Photos – thanks to Jakub Iwanicki + Danny MacAskill ["The Ridge", Skye])
Secure bike storage
The location could hardly be more cycle-friendly, as the cottage garden opens onto the Speyside Way!  There are literally hundreds of potential on and off-road routes to ride for cycling enthusiasts, young and old, directly from the front gate.
So, we have made sure everything is available to allow cyclists the maximum enjoyment of this cycling haven, from clothes washing / drying facilities to purpose-built cycle store with shelter from the elements and high security.
Boat of Garten itself is also ideally situated for national and local cycling routes, and has a great bike rental shop available in the village too (Ride Cairngorms).  
The huge variety of routes range from the SHORT + EASY – for example, from the cottage:
Loch Garten / Mallachie
Speyside Way to Nethy Bridge or Aviemore (with steam train option for those just wanting to go one way!)
          (Photo Courtesy of Jakub Iwanicki)
To the LENGTHY + CHALLENGING – eg.:
National Cycle Route 7 [passes within 1 mile]
Abernethy Forest into the heart of the Cairngorm Mountains, etc., etc.
   
There are really too many to list here, but plenty of sources to help you find YOUR cycle adventure!  Try starting with the Visit Cairngorms website information and various links.
We have blogged many times on cycling related local + interesting info!!
(If you liked Danny MacAskill's eye-watering "cycle ride" on the Cuillin Ridge, as a friend of the village, check out his more leisurely "Wee Day Out" around Boat of Garten to give you some inspiration!!)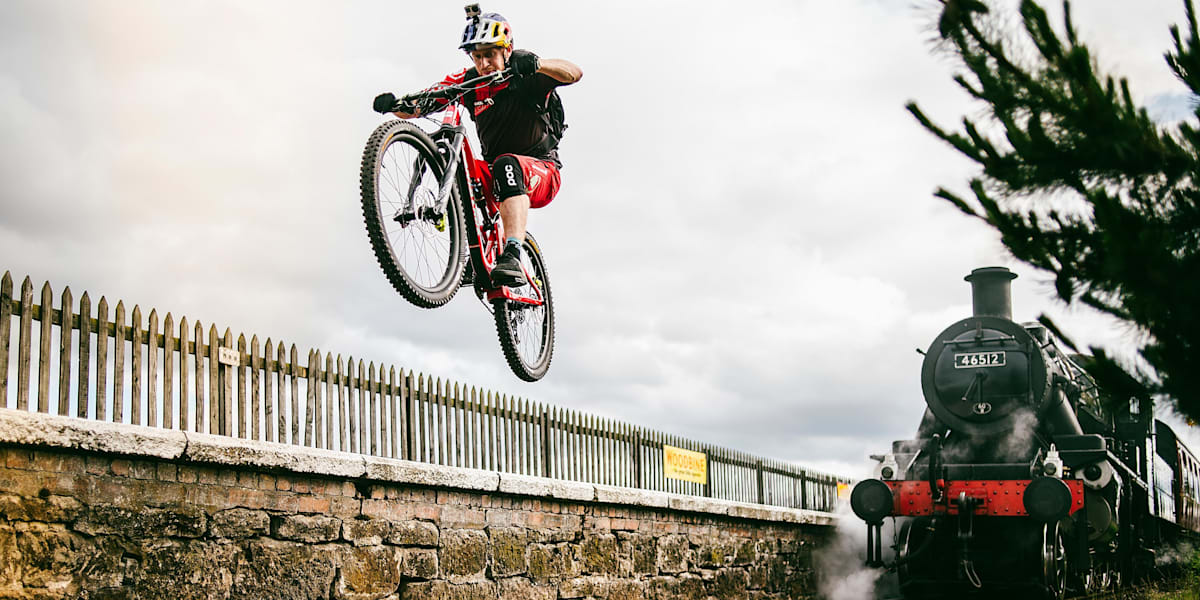 As keen cyclists ourselves, we would like to encourage others to enjoy the perfect base for both serious cycling and learning (some of the safest traffic-free routes you will find in Scotland).  So, we have provided all the information and done everything possible to make it easy to enjoy this cycling haven.  A few things that might help, include:
Main national rail network to Aviemore and local Stagecoach bus services (eg. Aviemore to Boat of Garten) allow carriage of bicycles
Cycle rental, repair and advice shop, Ride Cairngorms, our experts in the village with a huge range of advice and bikes (including E-bikes)
Maps, reference, WiFi accessible WWW information all available at the cottage (OS Grid Ref: NH93791812, Poscode: PH24 3BP)
Purpose-built cycle store with shelter from the elements and high security (internal secure cycle hoop and external locking doors) – we realise some people's bikes are their pride and joy!
New washing machine (with provided eco/allergy-friendly wash powder)
Outdoor clothes hanging line (for warmer weather!) and a large indoor clothes drying rack which will dry cycle clothing overnight
Both restaurants in the village serve meals until later in the day (for those who might return later after riding some of the more challenging routes)
Local shop / Post Office is open very early, does great filled rolls, sandwiches, pastries, etc. for your ride, so you can hit the track early!
For recent exciting developments in the village, with the opening of the community Pump Park, "Woodland Wheels", see our "Big Up The Bikes" blog post!
If you're still not inspired to jump on a bike right now and head off towards adventure, these quotes will do the trick………
"Ride as much or as little, as long or as short as you feel. But ride" – Eddy Merckx
"It never gets easier, you just get faster" – Greg LeMond
"Nothing compares to the simple pleasure of riding a bike" – John F Kennedy
"The best rides are the ones where you bite off much more than you can chew, and live through it" – Doug Bradbury
"To me, it doesn't matter whether it's raining or the sun is shining or whatever: as long as I'm riding a bike I know I'm the luckiest guy in the world" – Mark Cavendish
"I don't ride a bike to add days to my life. I ride a bike to add life to my days" – Unknown
"When the spirits are low, when the day appears dark, when work becomes monotonous, when hope hardly seems worth having, just mount a bicycle and go out for a spin down the road, without thought on anything but the ride you are taking" – Arthur Conan Doyle